Recently I brought my daughter to a scrap-booking retreat with me.  Normally these events are reserved for some "me" time, but my friend and I decided to bring our daughters with us.  I kept trying to print ouy photos that week to have ready for her to scrap, but for some reason it failed over and over.  So we were left to just bring the photos we already had in our box.
The dilemma was this, I had planned to print out a set for her to work on in HER photo album.  Yes, we were in a pickle now.  All of the photos were for the FAMILY album, which is traditionally done by yours truly.  Hmmm, ok, now I know what Carrie Underwood is singing in the song "Jesus take the wheel".
I had to let go of all control and let her go for it in MY album.  Let me give some history.  Years ago, my kids each started their own albums, and I let them do it all by themselves.  I did not try to straighten the sticker, or pick a better matching paper set, or decide which photos to use.  Nope.  I wanted them to create their own pages to treasure.  I gave them a whole pile of my "reject" stickers (shhh, they don't know this lol) and free reign in paper choices. I worked hard to not control any aspect of their creativity while scrapbooking.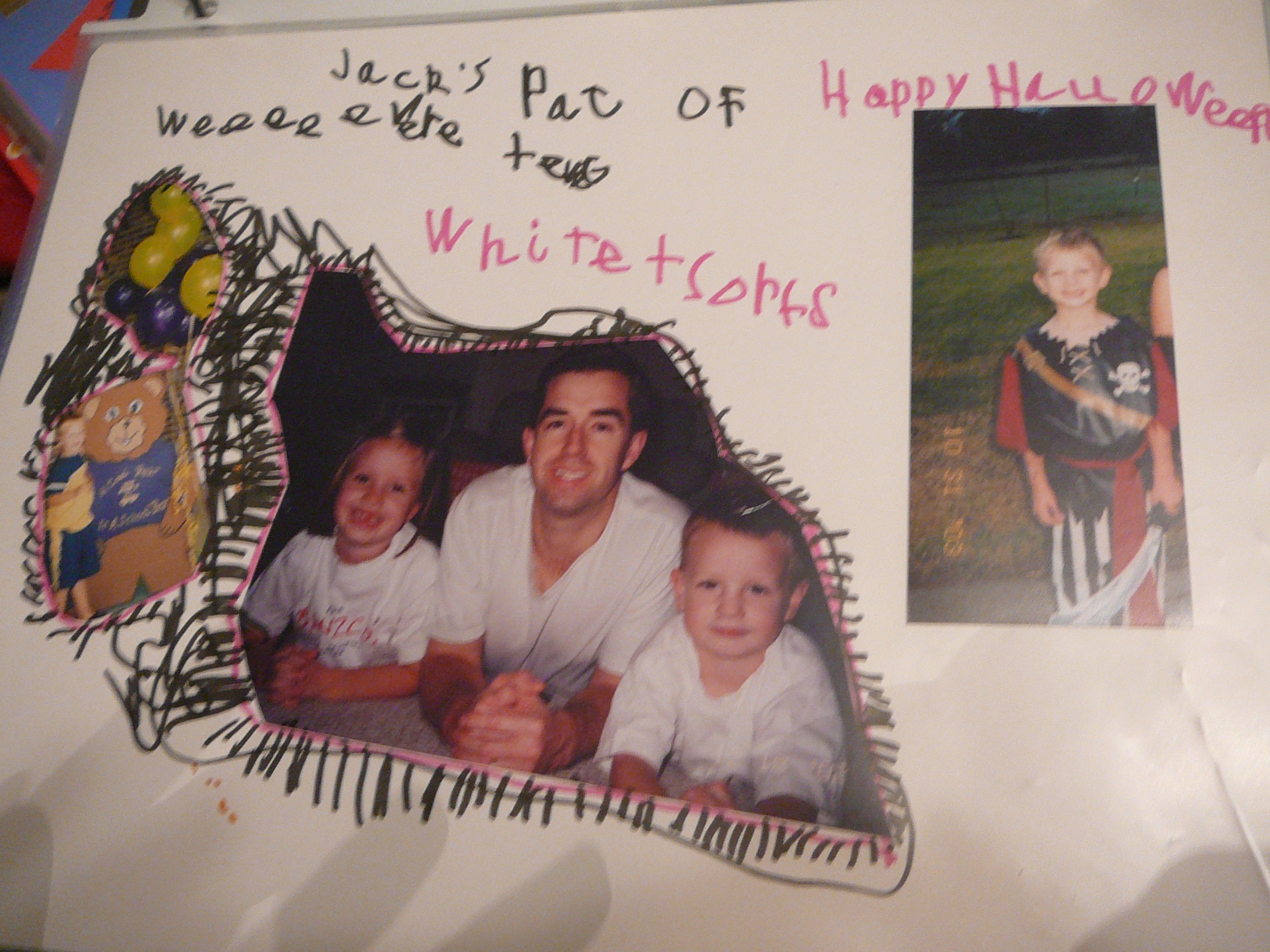 Jack did this page when he was 5. Love the cut outs and black framing with marker.
These pages are by far some of MY favorites!  So sweet, so original, so… not perfect!  I thought it was a good lesson of me letting go of control.  My friends thought it was very brave of me.   I admit sometimes I wanted to straighten a sticker or spell check their words, but I promised myself (& silently them) that I would let them make their own albums.
Now fast forward to last weekend.  It's one thing to give them freedom on their albums, but now we were at the mountain top looking down at MY album…. ohhhh, the pressure.  My daughter really wanted to work on our pages so I did it.  I gave up ALL control and told her to go for it.  I answered questions she had but really encouraged her to use her creativity and let her know that I trusted her to make great family pages.
I realized that years from now will I think "this page doesn't match" or will I look at the wonderful times when mother and daughter worked side by side creating memories of our memories.  Yes, I let Jesus take the wheel and enjoyed the ride with my sweet daughter, who by the way is becoming a far better scrapper than her mom!  She has a great eye for color and space.  The pages now bring me double joy!  First I enjoy the memories of the times that the photos reflect, secondly I feel joy knowing that mother & daughter found a great activity to enjoy together.