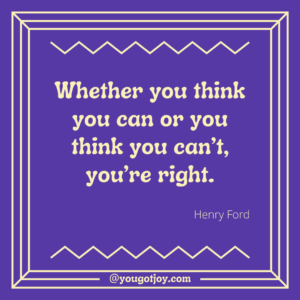 Day 20- 
Whether you think you can or think you can't, you are right!
Click HERE to watch video message.
-💥This is such a powerful mindset shift. How we talk to ourselves plays a big part of what we accomplish.
If you're someone who constantly is using negative language, challenge yourself to Flip the script and start reminding yourself that you can do hard things! Believing is the first step to achieving everything we want. Our attitudes determine our success or our failures.
30 mindsets in 30 days, change your mindset, change your life, find more joy!
☎️ If you are interested in working with me as your life coach, please message me for details. I am running a summer special on my 6 pack (6-weeky 30 minute phone sessions)
📌Remember you can find me on YouTube, Instagram, Facebook, TikTok and Etsy – click HERE to find my links.
🛍Speaking of Etsy, all of these mindsets have great inspirational products for you to purchase, check out my Etsy store HERE ➡️YouGotJoyShop and make sure to follow the shop so you can see updates and sales!