Coaching
Tip: We are in uncharted territories. 😯That means there is a lot of unknown. 🤔That means there is a lot of fear. 😧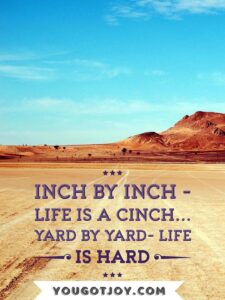 Recently I heard this quote "inch by inch, Life is a cinch. Yard by yard, Life is hard," and it has stuck to me like glue! 🎯 It has actually become my mantra over the last couple of weeks.
It is so true that if we go inch by inch we find it manageable and we know we can move forward. It is when we go yard by yard where it becomes hard and scary. One thing I talk about often is staying in the present moment. It is in the present that we find humor, joy, and plenty to be grateful for.
During these next few hours, weeks, months, I encourage you to stop the train 🚂 that is on full-speed-ahead in your mind and remind yourself inch by inch 📏
What is the next best thing you can do right now? As you have seen many times I'm sure over the past week, you can 📍take an online cooking class,📍 virtually tour a museum, 📍finally try a fancy yoga class virtually…so many different ways we can use this pause⏱ in the daily chaos of life to enrich who we are.
I also want to remind you that "groupthink" can be a positive and it can be a negative. So surround yourself virtually (while social distancing) with people who will help you see the positive💝, keep you calm, 🥰lend a hand 🖐🏻 , and show kindnes ✌️. Do not get sucked down the rabbit hole of fear and uncertainty. Reach out to those you love, reach out to those you know, find a way to be positive in this new (hopefully temporary) normal, and move inch by inch!
💋Coach Carmalyn
Would love to hear your comments, or what you were doing to stay in the moment and move through your day inch by inch. Also, please feel free to share this post and let others know it is a great place to find comfort, joy, and tips on how to live your best life.
Find me You Got Joy on Facebook & Instagram!