Here is another fun interview I did with host Stacey Bennett of I Washed My Hair For This – Instagram show.  So fun!
Click here.
https://www.instagram.com/tv/CQgk08Oh13P/?utm_source=ig_web_copy_link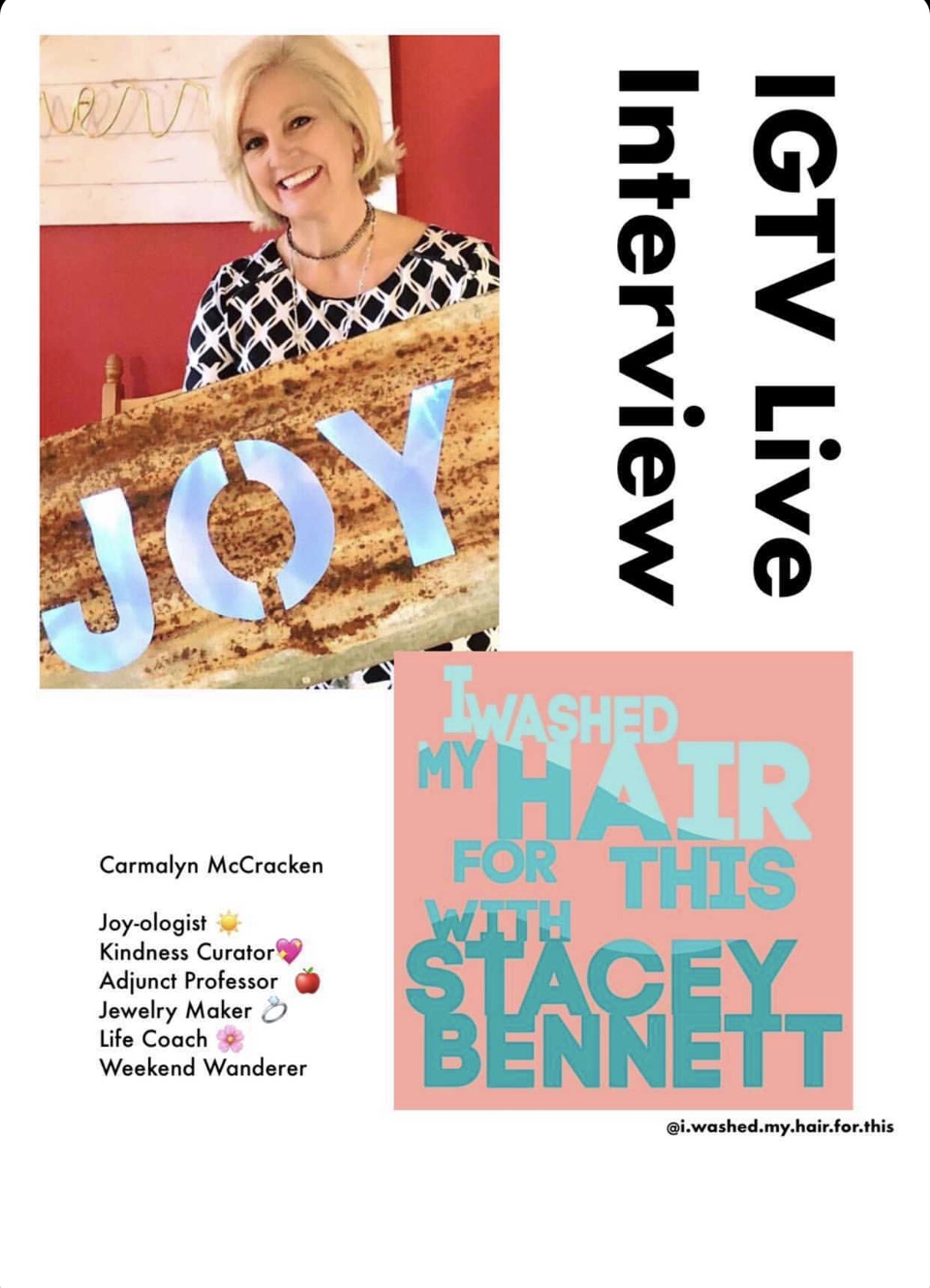 Here are the cliff notes of the interview—Listen to the above (click link) to hear the details  🙂
I Washed My Hair For This interview – June 2021
What is your personality type:
On the Enneagram I am a 7 "The Enthusiast" although I also score pretty high as a 2 "The Helper".  Interestingly enough my husband and some of my closest friends are 9s "The Peace Maker".  I need those to keep me calm and centered.
On the Meyers Brigg I am an ENFJ – Extraverted, Intuitive, Feeling, and Judging personality traits. "These warm, forthright types love helping others, and they tend to have strong ideas and values. They back their perspective with the creative energy to achieve their goals."
What am I doing these days?
I am an Adjunct Professor at Lone Star College – Tomball and loving teaching EDUC1300 – a First Year Foundation class for all incoming freshman. We tackle everything from goal setting, time management, stress management, understating your finances, fears, critical thinking and more.  I love this!
I am also taking many professional development webinars this summer
What am I listening to?
As far as music -I have been loving Pink Martini radio on Amazon music, Parisian Café on Spotify, and Midnight at the Movies on Pandora (my Texas Americana tunes).
Podcasts I am listening to this summer include Kelly Corigan Wonders, Smartless, Armchair Expert, Eveything Happens with Kate Bowler
Audio books I have listened to this summer include lots of murder mysteries, habit making, and detective novels
Comedy stations on Sirius Radio
What am I watching?
Trying – Apple Tv
Lupin – Neflix
All British/Australian detective shows on Acorn
Americas Got Talent
In-between on Hulu
Kim's Convenience & Schitts Creek (2 great Canadian series on Netflix) and of course Seinfeld and Friends
What am I loving right now?
Making my Snapfish scrapbook albums!
Organizing & Decluttering
Planning my lessons for EDUC 1300 – the class I teach at Lone Star College- Tomball
My spa scented candle
My #DD Social Club group
Wandering around with my Husband
What am I passionate about?
MENTAL HEALTH
Glitter
Social Media cleansing
How have you been shown love?
I know I am A LOT. In the past I felt bad about myself in that way.  I have since learned that I was around the wrong people.  I am shown love now daily by my amazing tribe!  They love me for who I am and celebrate me and all of my wackiness.  I love the phrase – "You may be too much for some people.  Those are NOT your people!"  Truer words have never been felt by me!
Final takeaway I would like people to know?
Change your mind – change your mood.  (You'll have to listen to the interview in this post to understand exactly what I mean.  It is towards the end of the interview)