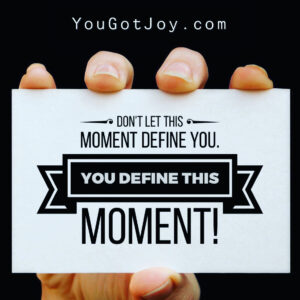 As a life coach, I work with a lot of students.👩🏻‍🤝‍👩🏾 Right now they are struggling to figure out what this all means. There's been so much heartbreak 💔over the loss of these last 6 to 8 weeks of senior year 👩‍🎓for our high school and college seniors. So much change! 😭
So for today's coaching tip- I say do exactly what this photo says… Don't let this moment define YOU. YOU define this moment!‼️
I know right now it's easy to get caught up in the fear 😱and chaos, but I have to believe that there will be so much beauty and new opportunity that arises from this.💝 I recently read "Since the lockdown: Venice's canals have become crystal clear. Italy coasts have dolphins 🐬 coming nearer and nearer. Japan now has deer 🦌 roaming free in the streets, and Thailand: the same with 🐒 monkeys. China has record breaking pollution cuts. ⛅️ The Earth has already began showing signs of AMAZING THINGS that are happening from all of this."
So let's get creative. What amazing things are waiting to show up in your life once we have to take away everything that seems normal? 🤔
How can you rewrite ✏️ your normal right now?
I know that I have lots of Zoom Video gatherings scheduled this week with my dear friends 👩‍👩‍👧‍👧that I miss so much. I have also had a lot of fun posting photos and videos in our Family Facebook Group. I have enrolled in a class at Harvard & Yale! Yep, I'm going to order swag to start wearing with my new alma maters! ha.
What can you do during this time. What will your story be? How can YOU define this moment? …and remember, it is a moment. it is NOT forever. ❌Let your FAITH be bigger than your FEAR and figure out a way to fiind some positives along the way.
Reach out if you need me. I have a LOT of time on my hands! ha. Seriously, wishing you all better days ahead.💕