"Kindness is a language which the deaf can hear, and the blind can see." Mark Twain
Recently w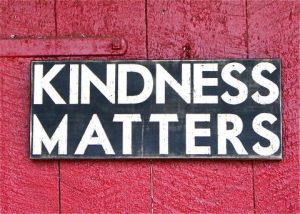 hile visiting with family, my niece was driving with me and noticed my charm that hangs from my car rearview mirror.  It says Kindness Matters.  She read it out loud then repeated it over and over.  I could tell her mind was processing then she turned to me and asked, "Why does kindness matter?"
I told her that kindness matters because it shows others love.  Kindness has the power to change others and make a difference.  It feels good to do good. Kindness has the power to change your mood and lift your spirits. It can heal, it can encourage, and when we are kind, we help make our world a kinder place to live in.  Research shows that kindness is contagious.   When we perform an act of kindness, it likely will encourage others to act in a similar way.
Then she asked if we could go be kind to someone.  I said YES!!  And off we went on a kindness spree.  What fun we had.
This month my challenge to each of you is to find ways you can spread kindness.  I challenge you to show kindness to strangers, friends & family, animals, and also to YOURSELF.  Have fun with this challenge.  Make it a family event.  Brainstorm on how you want to show kindness.  Make a Kindness Bucket List and then get out there and DO IT!
Here are some ideas to get you going:
Smile genuinely at others throughout your day
Pass books on, especially the good ones or leave them in public places for others to find
Spend some time with a widow and enjoy the conversation
Do a chore for someone
Pass out compliments
Pay for the person behind you in the drive thru lane
When you are served in a store, restaurant, etc, make eye contact and sincerely thank them
Put coins in a parking meter that's about to expire
Offer to take a neighbor's dog for a walk
Take a friend to dinner
Buy 7 cards and 7 stamps and mail out 7 hand written cards for FUN
See who can buy the most food for $20 at the grocery store, then donate it to Northwest Assistance Ministries (this is a fun challenge for kids!)
I hope you will have some fun this month by spreading kindness.  I would love to hear your stories.  You can email me at madjacktx@sbcglobal.net .
Be kind. Spread Joy.